Close Corporations
A Close Corporation (also known as a Closely Held Corporation) is a business structure available in over a dozen states with a host of unique strong points in flexibility, simplicity, and control. The Close Corporation may also inherit benefits from an S or C corporation, like their respective taxations and limited liability protection. With fewer corporate formalities and shareholders, fewer reporting and legal requirements, offering great privacy and command over your business—a Close Corporation is a valuable option. Well-known companies such as IKEA, SC Johnson, Publix, and ALDI all use a statutory close corporation as their business structure. Let's go over the specific details below.
Benefits and Advantages of a Close Corporation
A Close Corporation has many advantages and benefits, including:
Relaxed corporate regulations and compliance requirements. No need for a board of directors or annual meetings.
More shareholder control due to fewer shareholders and the inability to sell shares to non-shareholders.
Can elect pass-through taxation like an S Corporation or be taxed as a C Corporation. This flexibility makes it easier to meet your tax goals.
Offers limited liability for all shareholders to protect their personal assets from creditors and claims against the corporation.
Fewer administrative and legal costs.
SUBMIT DETAILS AND GET OUR ATTORNEYS TO CALL YOU
* Please give our attorneys up to 4 business hours to call your phone. Thank you.
Close Corporation Details to Keep in Mind
The close corporation structure differs from standard corporations in certain aspects, such as:
Interests of a Close Corporation cannot get traded publicly.
Closed Corporations must be owned and operated by people and not other legal entities.
Majority shareholders have the most decision-making power and control; minority shareholders may need approval before transferring or selling shares to others.
Why a Close Corporation Needs a Shareholder Agreement
The importance of a shareholder agreement parallels that of an operating agreement in other entities. We're not just trying to sell a service—we recommend this as an essential accessory for your incorporation to:
Detail critical aspects of its management and financial structure.
State how the shares get distributed when a shareholder leaves or dies.
Outline shareholder rights and obligations.
Handle disputes and resolve conflicts.
Establish a non-compete clause.
Describe shareholder profit distribution.
Starting a Close Corporation
To start a Close Corporation, or if you have any questions, you may call our office directly during regular business hours at (800) 603-3900 and promptly speak to an attorney, or you can click here to get the process started online. If you'd like someone to contact you instead, please fill out our Immediate Assistance Form on this page.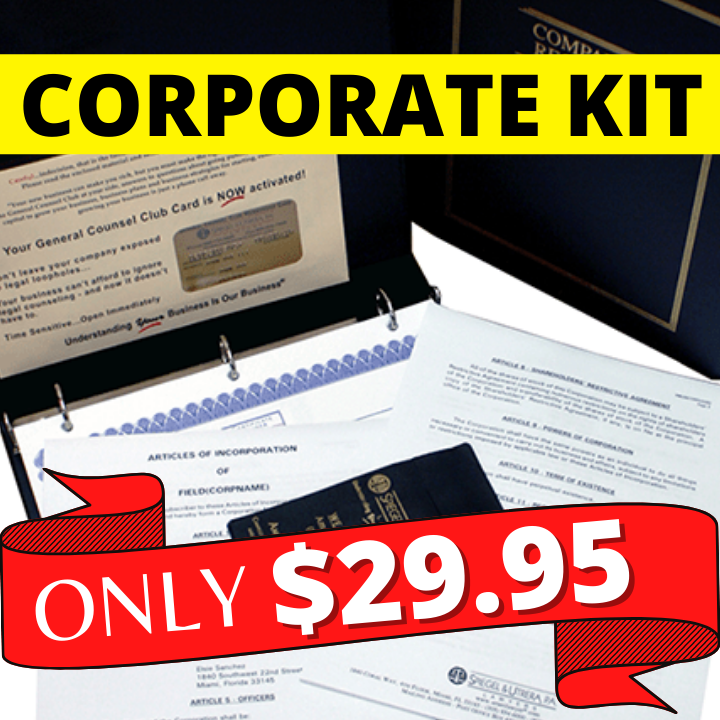 Free Corporate Kit Included With Your Close Corporation or $29.95 Separately
Completed Corporate Records Book and Seal
Slip Case Cover
Corporate Organizational Minutes
Corporate Resolutions
Corporate By Laws
Corporate Ownership Register
Banking Resolution
Stock Certificate