The importance of a Registered Agent
Registered agents are one of the most important things to consider when starting a new business. All corporations, non-profits, limited liability companies, and partnerships are legally required to appoint a registered agent, and failing to choose the right one can lead to disaster for your business. We'll provide you with everything you need to know so that you can make an educated decision and avoid the trouble of privacy breaches, defaulted lawsuits, and bad standing with the state—which can all lead to the loss of your business entity, license, assets, and more. We'll also go over the advantages of having a law office as a registered agent.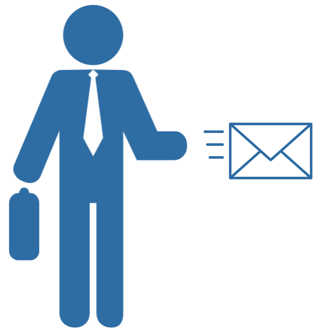 What is a Registered Agent?
A registered agent—also known as a statutory agent or agent for service of process—is a party, entity, or person appointed to receive important state and court correspondences such as annual state filings, tax notices, court notices and other articles of official documentation. Registered agents routinely receive important mail from the state and service of process. Service of process is the document which initiates a lawsuit against your company and starts the statute of limitations. The registered agent will collect the official mail or notifications, then process and communicate them accordingly to the business owner.
Role and Benefits of a Registered Agent
Again, state government requires you to provide someone as a point of contact for your business at all times to accept documents on your behalf. A registered agent is particularly important if you don't have a physical location in that state, since P.O. boxes don't fulfill this requirement.
A registered agent will help you:
Avoid fines and penalties by ensuring that you receive official letters in a timely manner.
You also have the benefit and freedom of being away or unavailable during normal business hours without missing a beat.
Another one is having privacy and anonymity, since public records only show the registered agents address instead of yours.
You can also change locations without having to file a change of address with the State.
And disarming yourself of the legal responsibility of receiving official mail, staying at your business location, and the peace of mind of not being served lawsuits or tax documents in front of others.

Choosing a Registered Agent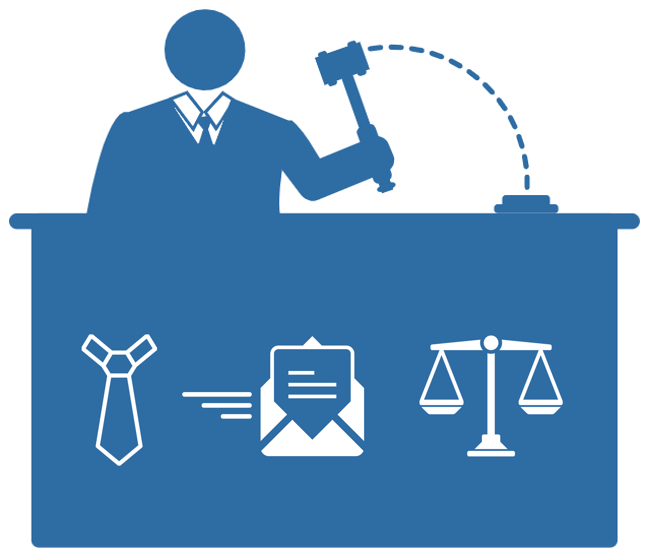 Failure to maintain a registered agent can lead to involuntary dissolution, revocation of charter and authority, and the freezing of your financial accounts. The registered agent of your choice must have a physical street address, and availability at that address during normal business hours. Ideally, you want a registered agent solution that is reputable and responsible in getting documents unto your hands promptly. Courts are typically inclined to set aside a default judgment against a party for failing to respond to a summons and answer a complaint on reasonable grounds such as inadvertence, mistake or excusable neglect. For a defaulted party, a registered agent's lack of diligence in handling service of process may cost a defendant thousands of dollars in a default judgment.
It is imperative for companies to choose a professional registered agent with internal processes in place to efficiently forward all service of process and have the ability to defend a party in a suit to prevent a catastrophic result. An attorney registered agent office can not only do just that, but can also provide legal advice, and the attorney-client privilege that non-lawyer registered agents simply cannot offer. The legal and business advantage of this is huge; it means that if you receive a subpoena to produce information about your corporation, LLC, Partnership or Trust because of matters such as alimony, child support, bankruptcy, debt collection, foreclosure, IRS, tax collection, government enforcement action, criminal matters or anything else—the attorney is duty bound not to disclose any information about you to anyone. This is a powerful legal advantage to have working for you and you can only obtain it from a lawyer. A non-lawyer registered agent or office cannot offer this valuable confidentiality and privacy protection.
Attorney Registered Agent
Spiegel & Utrera, P.A. is committed to protecting our client's privacy. Being in business today is stressful enough without worrying about being vulnerable to privacy breaches and that's where Spiegel & Utrera, P.A. comes in. We are trained to protect our client's privacy and we take that responsibility very seriously. We don't just represent you or your business, we understand the importance of assessing every opportunity to be a valuable asset to our clients. Each day we receive many inquiries seeking information about our clients and their business. You can rest assured that we never, ever disclose any information about any of our clients unless we are compelled to do so by a subpoena. Remember, that when Spiegel & Utrera, P.A. serves as your registered agent, we act as a buffer between you and anyone who would seek to serve process on your business. This assures the utmost privacy.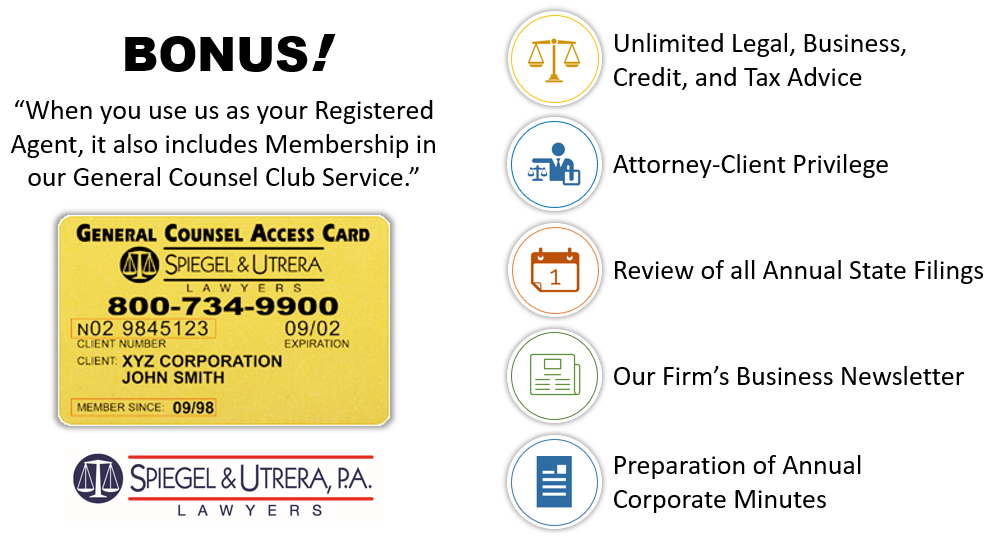 Roger Davis
★★★★★
My attorney for 30 years. They really do more than just set up corporations. I needed somebody to help me out of a serious legal matter they were able to take on the case for less than 1/2 of what the other attorney was charging me. Become a member of their Club it's like a hundred forty bucks a year and you get all the free legal advice you want. What a cheap insurance policy. I am so glad that I have them on my side.